Like the battery warning light in a car ... but better!
These Charge Warning Lights (CWLs) tell you :-
That the alternator is working
&nbsp
That it is generating sufficient power to cope with demand and keep the battery charged
&nbsp
They also warn of overcharging
&nbsp
Warns of a flat battery when ignition is switched on
&nbsp
Universal fit CWLs with integral 10mm RED or TRI-colour LED and mounting bezel for modern and classic motorcycles and cars
Standard CWLs that power your choice of incandescent bulb or LED
Deluxe CWLs with Lucas style LED for super easy fitting to classic British motorcycles and cars
Combined Charge and Oil pressure warning lights for classic British motorcycles
All CWLs are 12V only with 6V CWLs made on request
&nbsp
How the monochrome Charge Warning Lights work
Please watch the above video that demonstrates two of these CWLs. To avoid distractions or having to monitor an indicator lamp while driving or riding, these CWLs work on the principle that no news is good news - if the light is off then everything is working ok
Turn the ignition on and the light flashes twice to tell you the unit has powered up correctly and then the light stays on (slow regular flash for combined Charge/Oil warning light). If instead it repeatedly shows two short flashes followed by one long flash, the battery is flat and needs charging
Start the engine and the light goes out when the alternator is detected as working and producing sufficient power to cope with demand and keep the battery charged
If the light repeatedly shows one short flash followed by a long pause then this is warning you that the vehicle's charge regulation system has failed and the battery is being overcharged
Simple to install, simple to use - never be in doubt whether you will be left stranded with a flat battery.
Once you have got familiar with the rpm and electrical loads the light comes on or goes off at, you will be alerted to problems the moment they occur. These CWLs not only warn of complete charging failure but by being aware of the normal routine, partial failures such as an alternator coil shorting to earth are easily detected
Better than an ammeter - how much current is too much? Measuring voltage instead of current gives you a precise warning of overcharging
&nbsp <! RED RED RED UCWL RED UCWL RED UCWL >
The Universal fit Charge Warning light with 10mm RED LED - £11.75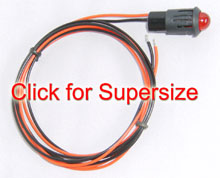 Drill a 14mm hole, slide the warning light into the hole and it clicks into place.
&nbsp
Connect the two wires to earth and a terminal of the ignition switch made live by turning the ignition on. Both wires are 1m long and should suit most vehicles.
The 10mm red LED is extremely bright (700mcd) with a wide (120 degree) viewing angle. So it's easy to tell if the LED is on or off even in bright sunlight.
The electronics are encapsulated in flame retardant (UL94V-0 standard) epoxy resin. Shown working underwater in the video below right and surviving heavy blows from a 16 ounce steel hammer, the Universal fit CWLs are incredibly tough and genuinely waterproof.
&nbsp
Click on the images for supersize
<! SECOND ROW OF RED UCWL PICTURES >
&nbsp&nbsp <! TRI-COLOUR TCWL TCWL TCWL >
The Universal fit Charge Warning light with 10mm TRI-colour LED - £12.45
This Tri-colour CWL works in a slightly different way to the monochrome CWLs. It doesn't need the alternator to be working to change colour. If the battery is freshly charged it can occasionally display green (for charging) when the ignition is first turned on. This is no problem and just gives you a little more information about the battery's state of charge.
If the monochrome CWLs worked in the same way, the light could go out without the engine running which would be very confusing. So the monochrome CWLs use sophisticated techniques to analyse the voltage being measured and decide if the alternator is working correctly before turning the light off.
This is the same size as the Red Universal fit CWL and is fitted in the same way. Please watch the video to the right (best viewed fullscreen) which demonstrates both red and tri-colour Universal fit CWLs in action.
The Tri-colour CWL voltage/colour map is as follows:- less than 11.1V = slow red flash, 11.1V - 12.6V = steady red, 12.6V - 15.4V = steady green, 15.4V - 16.1V = steady yellow, above 16.1V = eye catching yellow flash sequence
Click on the images for supersize
<! ***** END OF TCWL **** >
&nbsp
&nbsp
Monochrome Charge Warning Lights with a white control box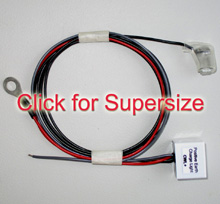 &nbspThe Standard Charge Warning light - £16.95
The white control box is installed close to the warning light eg in the headlamp shell of a motorcycle.
&nbsp
The short wire with pre-fitted ring connector bolts to frame earth.
&nbsp
The long wire with pre-fitted 1/4" piggyback Lucar/Faston flag connector is connected to a terminal of the ignition switch made live by turning the ignition on. This wire is 1.2m long and can reach an ignition switch in a motorcycle's sidepanel
&nbsp
The grey wire with no pre-fitted connector supplies vehicle negative power when the warning light bulb is to be lit and should be connected to (and have exclusive access to) the negative side of the bulb (or LED) you supply. Connect the other side of the bulb to vehicle positive. VERY IMPORTANT:- before ordering, make sure it is possible to connect the bulb in this way. For example, this would not be possible on a negative earth vehicle where one side of the bulb is hard wired to earth.

The warning lamp must be a maximum of 5W. An LED can be used if fitted with an appropriate current limiting series resistor (LEDs sold as "suitable for 12V" already have the resistor).
If your Ducati Voltmeter / Voltimetro has failed or you have replaced the regulator / rectifier and lost the charge warning feature, the negative earth Standard CWL is the perfect way to restore it.
&nbsp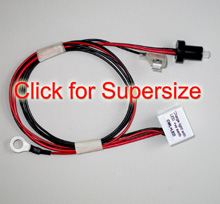 The Deluxe Charge Warning Light with Lucas style LED - £18.15
The same as the Standard CWL but without the grey wire. Instead there is a wire connected to a red LED moulded into an LED holder. The LED holder slides into the Lucas warning light lens used on classic British motorcycles and cars. Deluxe CWLs usually require no rewiring and simply plug in.
You supply the warning light lens. The lens must be red or amber for the red LED to look right. Check its internal diameter is 9.6mm (3/8") before ordering. NOTE: The LED holder will not fit the lens used on later Mk3 Norton Commandos with four warning lights surrounding the ignition switch in a plastic pod mounted between the speedo and tacho - order a Standard CWL to power your existing Assimilator light bulb.
Treat your classic to some 21st century technology while retaining a completely original look!
&nbsp
&nbsp&nbsp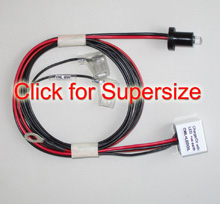 The Deluxe combined Charge/Oil pressure Warning Light with Lucas style LED - £19.15
The same as the Deluxe CWL but with an extra wire with pre-fitted Lucar/Faston flag connector that connects to the oil pressure warning light switch. Ideal for late 1960s and 70s classic British motorcyles already fitted with an oil pressure switch and warning light lens eg BSA A65, A50, Starfire, Rocket 3, Triumph Bonneville, Daytona, Trident. If you ride one of these bikes, you already have an oil switch and Lucas lens so it makes sense to fit this CWL. You get a much more eye catching low oil pressure warning, full monitoring of charging, no rewiring required and your bike still looks completely original.
Low oil pressure is displayed as regular flashes of the LED - slow flashes if the engine isn't running, urgent fast flashes if it is.
Once the engine is started and oil pressure rises the LED behaves exactly like the Charge only CWL.
If you have fitted an oil switch to a Norton Commando, please note that the Deluxe LED holder won't fit the lens of a Mk3 - use a Standard combined Charge/Oil CWL to power your existing assimilator bulb.
&nbsp
&nbsp
Norton Commando Assimilator Light
The Charge only Standard or Deluxe CWL is an ideal replacement for the battery warning light system (Lucas 3AW or 066393) fitted to Norton Commando motorcycles and many classic cars. OEM systems feature a sense circuit to detect that the alternator is putting out a few volts but that is all they do. The circuit between the alternator and the battery can be broken and the warning light will go out, telling you that everything is ok when it is not. Although good systems in their time, modern electronics make a better system possible.
The CWLs on this page tell you that voltage is getting through to the ignition switch (the closest you can get to the battery). And the light goes out at 12.6V (colour change red to green for tri-colour) to tell you the battery is getting enough voltage to cope with demand and keep the battery charged. Shown alongside an ammeter in both videos on this page, you can see that the CWLs very closely follow whether current is going into or out of the battery.
"Fitted it this morning and all works first time. At last a product that works on a Norton commando (converted to three phase charging). On at ign on and off at engine start. On again at full beam but off at 1100 rpm just as it should be." - Commando owner in south UK.
&nbsp
Technical
The CWLs contain a small but powerful microprocessor that measures voltage 15,000 times a second to a resolution of 0.017 volt. The bulb or LED status is updated 30 times a second - they react almost instantly. Sophisticated programming techniques eliminate flicker and reliably detect alternator ripple. I first started programming microprocessors in 1979. What you get is a properly developed, bug free product.
12V CWLs have a working voltage range of 4.2V to 22V DC and a safe voltage range of -16V to +22V. All CWLs are protected against voltage spikes from the ignition coil and can be used with all suppressed ignition systems including points and coil.
CWLs that power the bulb you supply use a maximum of 0.06W plus the power required by the bulb. CWLs with integral LED use a maximum of 0.5W
Over two thousand of these CWLs are now in use on a wide range of classic and modern cars and motorcycles around the world, with applications including light aircraft, ride on mowers, E-type Jaguars, race cars and boats. Comments from happy customers can be found in my ebay feedback

Made in Britain
&nbsp
&nbsp
&nbsp
Terms and conditions
The most popular CWLs are held in stock and all others are made to order. Order through the "Buy CWLs" page.
All CWLs come with a one year guarantee of replacement or refund unless damaged by incorrect fitment or use. Comprehensive fitting instructions are included - follow these and you can't go wrong.
These CWLs are indicators of vehicle faults. Although they have proven to be robust and reliable, indicators can fail. No responsibility for loss or damage will be accepted under any circumstances for problems that lie elsewhere in your vehicle. You are advised to always check for the double flash at startup (colour cycle for tri-colour CWL) and that the combined Charge/Oil pressure CWL shows a regular slow flash indicating low oil pressure before starting the engine.
&nbsp
Will this work on my vehicle?
The CWLs should only be used with a suppressed ignition system. Unsuppressed may affect the operation of the CWL and is anti-social as it causes picture breakup on TVs in some of the houses you go past. Email for advice on how to test if unsure whether your system is suppressed or not.
These Charge Warning Lights work on any vehicle where turning the ignition on connects the battery to the ignition coil(s) or electronic ignition system.
NOT suitable for Lithium batteries (see below)
NOT suitable for vehicles without a battery
NOT suitable for vehicles with an emergency start system that feeds AC to the ignition circuit
NOT suitable for magneto/magdyno equipped vehicles unless connected to the charging circuit with a dedicated on/off switch.

To test suitablility, disconnect all but the wire going to the battery from the ignition switch. If you can find an ignition switch terminal that has no voltage with respect to earth with the ignition off but has battery voltage with the ignition on, then your vehicle is suitable.
If in doubt, please ask before ordering. Include your vehicle's circuit diagram if possible.

&nbsp

Lithium Batteries

Lithium batteries have flat battery, charging/not charging and overcharging voltages that are different to those of lead acid batteries. Please email to order a CWL for use with a Lithium battery.

<! *** END OF ROW1 DIV ***> <! *** FOOTER *** >